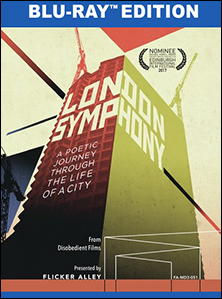 LONDON SYMPHONY Region Free Blu-ray

In addition to the film, the disc contains the following bonus material:

LONDON MEDLEY (1933) – Courtesy of Film Preservation Associates, this 10-minute city symphony (newly scanned in HD), is a fitting companion piece to LONDON SYMPHONY, presenting 'intimate glimpses of life in the Old World's greatest metropolis'.

HUNGERFORD: SYMPHONY OF A LONDON BRIDGE (2009) – A direct precursor to LONDON SYMPHONY, this 3-minute film presents an abstract journey over Hungerford Bridge, London, and the footbridges alongside it.

Exclusive Interview with Filmmaker Alex Barrett (director/editor of LONDON SYMPHONY)

ORDER YOURS HERE NOW - $23.95 with $1 shipping worldwide
Rest of the World
Rent now, for just $4.99, here
JOIN THE COMMUNITY!
As an official member of the LONDON SYMPHONY community, you'll receive exclusive behind-the-scenes access with our regular updates, which include diary entries, photographs and video blogs. £5.


THE SCRIPT!
Ever wondered what a script would like look for a modern-day city symphony? Well, now's your chance to find out, with our script ebook, featuring an introduction and annotations by the director. £5.


All content and material on this website is Copyright © London Symphony Film Company Ltd 2017, unless otherwise stated.